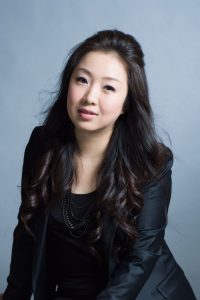 Zhang Rong Hui is currently the Ruan Principal of SCO, President of Ruanxian Association of Singapore, council of Singapore Chinese Music Federation , Artistic Director of Singapore Ruanxian Ensemble and the Principal of Ejoy Music Center   .
Since young, Zhang Rong Hui studied guzheng under the tutelage of guzheng master, Gao Zhi Cheng. In 1985, she was admitted into the China Xi'an Conservatory of Music Affiliated High School, followed Ning Yong to major in Ruan and minor in piano, given an award by the academy.
In 1991, she entered the China Conservatory Instrumental Department with outstanding academic result, and under the tutelage of Miao Xiao Yun, Zhang Xin Hua in learning Ruan and Liuqin.
Zhang Rong Hui was graduated with a China Conservatory Bachelor's degree in 1995. During this period, she collaborated with numerous broadcasting corporations and video production companies, and was invited by CCTV to record her first solo Ruan music video, "Praise of Water" which was well received by audience. Also during the schooling period, she followed master Liu De Hai to represent the China Conservatory of Music to perform in Hong Kong Culture and Art Festival and received an award from the China Conservatory of Music.
After graduation, Zhang Rong Hui formed Ladies's Quintet while she was with China Song and Dance Ensemble, performed in many provinces in China and was awarded first prize in Ruan section during a Professional Technical Assessment conducted by the China's Ministry of Culture. At the same time, she was invited to teach in the China Conservatory of Music Affiliated High School. From 1995 to 1997,she was part time at Arts and Culture Department, CCTV. She had participated in many important events and film production.
Since 1997, she has worked with SCO and has been performed in Japan, Beijing, United Kingdom, France, Hungary, Indonesia, Malaysia, Taiwan, Hong Kong and other countries. Zhang Rong Hui's performing style is pure and beautiful, highly skilled, emotionally rich and full of vibrant.
Zhang Rong Hui is also actively imparting her skills to her students while performing with the orchestra over the years. She was invited to be an inviting guest in a professional Ruan seminar organised by National Arts Council of Singapore. She was interviewed by Radio 95.8FM, China Radio International and Oral History of the National Archives of Singapore, played a significant role in promoting and popularising professional Ruan performances.
During many years of educating and practicing, she has continuously exploring and the pursuing perfection in her techniques, summed up her unique teaching methods and has helped Singapore to nurture a large number of outstanding young musicians. These young talents have won many outstanding awards in national instrumental competitions. Four of them have won the gold, silver
and bronze awards of the Professional Group in 2010 First China Beijing Ruan Invitational Competition. This is the best result for the Singapore youth Ruan musicians in Chinese Professional Instrumental Soloist Competition. Zhang Rong Hui was also awarded the Outstanding Instructor Award and the Outstanding Group Award by the China Nationalities Orchestra Society.
In 2011 and 2014, her student Lo Chai Xia and Koh Min Hui admitted to the state-level Singapore Chinese Orchestra respectively as Associate Principal and Musician. Her student Tan Su-Min has been invited to cooperate with Hong Kong Chinese Orchestra for twice. Zhang Rong Hui has coached many guzheng orchestras which won numerous Singapore Education Ministry's SYF Gold with Honour and Gold Awards.
Zhang Rong Hui founded the Singapore Ruan Ensemble in 2005. In a few years' time, the Ensemble became one of the country's top youth orchestra. The Ensemble has been invited to perform in the presence of many national leaders and dignitaries and travelled to Beijing, Indonesia, Taiwan and other places, praised highly and well recognized by the music profession.
---
张蓉晖,新加坡华乐团阮声部首席,新加坡阮咸学会会长,新加坡华乐总会理事,新加坡阮咸印象室内乐团艺术总监,新加坡乐见音乐中心校长。
蓉晖自幼师从中国著名古筝大师高自成习筝学艺。于1985年考入中国西安音乐学院附中,师从宁勇先生学习阮专业并副修钢琴专业。曾获学校颁发的"重奏奖"。1991年,以优异的成绩考入中国音乐学院器乐系,跟随苗小芸,张鑫华学习阮及柳琴。
1995年,获中国音乐学院学士学位。曾与多个电视台及音像公司合作,并受邀为中央电视台录制了中国首部个人中阮独奏(流水颂)MTV,深获观众喜爱。蓉晖在校期间曾随刘德海大师代表中国音乐学院赴香港文化艺术节参演,并于95年荣获中国音乐学院颁发的单项奖。毕业后受聘于中国歌舞团,组创"女子五重奏"小组,演出足迹遍布全国。并在中国文化部专业人员技术考核中荣获阮组第一名,同时受邀任教于中国音乐学院附中。
1997年,任职于新加坡华乐团至今。曾出访日本,英国,法国,匈牙利,印尼,马来西亚,台湾等地。她的演奏音色淳美,技艺精湛,情感丰富,充满活力.
蓉晖在从事演奏的同时,也积极的投入教学工作, 曾受邀新加坡国家艺术理事会举办阮专业讲座,并接受95.8音乐电台专访。在多年的教学实践中,不断的探索,追求完善,总结出自己独特的教学方法, 为新加坡培养出众多的阮,古筝青年演奏家。她指导的学校古筝乐团及华乐团,均在全国SYF比赛中取得多枚金牌,如四德女中古筝团,时勤中学古筝团等。学生们均在多届全国器乐大赛中取得优异成绩.并于2010年北京首届阮邀请赛中荣获了独奏组的金银铜三个大奖,蓉晖也荣获大赛主办方中国民族管弦乐学会颁发的优秀指导教师奖及优秀组织奖。2013年,学生陈雯棋夺得全国乐器比赛中阮公开组第一名,她也是第一位获得少儿组,青年组,公开组三连冠的选手。2014及2011年,其学生罗彩霞与许民慧更以优异成绩考入新加坡华乐团,分别担任阮副首席及阮演奏家。2014年2月,其高徒陈素敏将与香港中乐团合作首演刘星大师的第二中阮协奏曲,这些成绩充分肯定了蓉晖在新加坡华乐人才培养的突出贡献。
2005年至今,蓉晖创办的新加坡阮咸印象室内乐团已是全国顶尖阮咸乐团,曾多次出访北京,西安,印尼,台湾等地,乐团曾获得中国首届丝绸之路国际艺术节友谊奖,阮咸的节目也荣幸被选为新航及中华航空的机舱内设节目,曾收到纳丹总统及陈庆炎总统的亲切接见,深受各界人士的高度赞赏.