Let's Have Fun with Chinese Music
Free trial! 
Come and try out Guzheng , Ruan , Liuqin, you will be surprised how easy to pick up these instruments by learning from our experience teachers.
Due to popular demand, email or call us to book your free trial ~
Update!
The Sale was too good and left with only one 汉楠木. Buy it now if you plan to change to a higher grade guzheng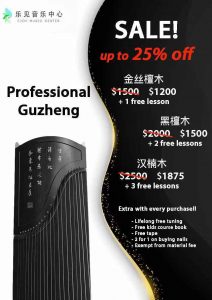 Zhang Rong Hui is currently the Ruan Principal of SCO, Director of Vizone Media Production Pte Ltd and Ejoy Cultures Pte Ltd, an artistic director of Singapore Ruan Ensemble.
Lo Chai Xia currently is the Ruan Associate Principal in Singapore Chinese Orchestra (SCO) and the Ruan instructor of Singapore National Youth Chinese Orchestra.
Liao Yuanting is an experienced Guzheng teacher with many years of teaching and she is graduated in music performance, majoring in Guzheng.
Ready to find out more? Get started today!